This online guide has been created for you to successfully grow a variety of plants that thrive in the tropics, using native seeds and plants to get growing with wise advice from fellow backyard gardeners and farmers. You are welcome to add your wisdom and share growing and harvest tips and recipes. Send to proorganicbelize@gmail.com
Welcome to Pro-Organic Belize
Tropical Garden Grow Guide
Where you are the student and the teacher.
| | |
| --- | --- |
| Botanic name: | Zingiber officinale |
| Plant type: | perennial herb |
| Sun Exposure: | Mostly shaded with some sun daily |
| Prefered soil type: | Soft loamy soil with organic compost worked in |
| pH: | 5.5 – 6.5 |
| Depth to plant: | Bury 3-4" long pieces of the rhizome about 2-3" below the surface of the soil |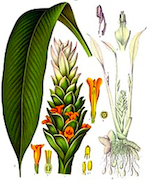 | | |
| --- | --- |
| Botanic name: | Curcuma longa |
| Plant type: | perennial herb |
Click here to see growing information
Plant(s) of the Month August 2022
Ginger and Turmeric


GINGER

Growing and harvesting tips:

The best time to plant ginger is at the start of the rainy season. Each individual rhizome planted requires about 12" square space.


Mulch well and water.

As you want ginger root, dig up a few pieces at a time.

Flowering spikes grow straight up from the ginger rhizome. It is best to harvest before flowers emerge.

Please see information below about growing turmeric as both have similar growing requirements.
Ginger adds flavor to most vegetable dishes.

Chopped ginger root can be added to kombucha.




Ginger tea helps with nausea and inflammation.




TURMERIC


Growing and harvesting tips:
Click here to see growing information


Recipes: Turmeric adds flavor, color and anti-inflammatory properties to soups, stir-fries and beverages.
Making turmeric powder

- Before drying and turning into a powder, wash the rhizomes and cure them
by boiling them until they are soft.
- After cooling, cut into smaller chunks and dry in low heat oven (about 200 degrees) for approximately 2-3 hours.
- Put through food processor, blender, or grinder and strain out powder. Larger chunks left in strainer can go through milling process again until powdered.
- Store in air tight jar in dark place and it will keep for at least a year.

Golden Milk

Golden milk, also known as turmeric milk has gained popularity as it is well known as an immune system booster. To make golden milk, simply warm milk (cow, goat, almond, soy, hemp) adding turmeric, with a bit of cinnamon and ginger to taste.